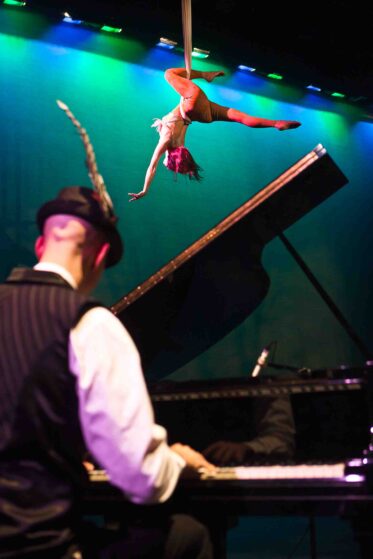 Our personal artistic passion is creating unique, often unexpected experiences combining my original modern classical melodies with other performance art, particularly dance. If you want to create a unique, elegant experience for your party or event we would love to work with you! We relish in collaborating with world-class musicians and performance artists! I also love performing perfectly tailored private concerts in the comfort of your home. Whether it's for your own enjoyment or as a gift for a loved one, I am thrilled to create a special memory that you will treasure forever.
We have produced many events at various venues throughout California, including:
Gourmet eats and cocktails under the stars at the enchanting Fire Garden in Bonsall, combined with my performance on a digital grand piano and world-class fire dancers performing to my music.
Concerts performing on a grand piano at the artsy bohemian Syrup Loft in Downtown Los Angeles accompanied by sensuous pole dancing.
Piano concert and High Tea at the Tea Rose Garden in Pasadena
Concerts at various venues in Los Angeles and San Francisco.
Our Weinglass Music 10 Year Anniversary Soiree held at a private estate in Hollywood Hills. (Video of highlight performance featured.)
The production we are most proud of was ODYSSEY, performed for a sold-out, 360-person audience at the El Portal Theater in North Hollywood that benefited Big Brothers Big Sisters. ODYSSEY is a captivating and sensuous tale of the longing for love fully expressed through a synergy of live music, dramatic dance, martial art, acrobatics, and aerial dance. Sojourn into the depth of the human experience as it awakens and unfolds across a 12-part live music and dance production. ODYSSEY is available to be commissioned for special events, festivals, and entertainment venues.
" For Christmas my brothers and I got our parents the gift of a private piano concert --- we spent a lot of time looking for the right person and ended up hiring Jeremy.

While I couldn't be there personally, my brother and some of our closest family friends were able to attend and send me live updates and short videos of the concert. Afterwards I heard from my mom and dad and they couldn't say enough about how wonderful it was. There was laughter, there were tears, there was beautiful music. I even teared up! watching live video clips come through and when my father told me about how awesome it was.

Music is an important part of my parents' lives and they love to hear their piano being played. Jeremy and his wife, Kim, were so incredibly kind and patient through all of the coordination and scheduling and really, truly helped create a beautiful afternoon and lifelong memory for my parents. I can't recommend him more highly! "